Many of our guests ask if it's a good idea to bring the kids on a yacht charter. There are safety concerns, but also they are worried the kids will feel bored on the boat and ruin the vacation to all, kids and parents alike. These are valid concerns, but from our experience this is rarely the case, in fact children love being on a yacht, learn to respect the rules of the boat, and are normally better behaved because they are entranced by the experience. Involve your kids completely, and plan for activities afloat and ashore. Involve your kids in on board activities so they never get bored and get all the fun and diversity they need for an unforgettable trip. To make the sailing trip a pleasure for all, it's necessary to have a concept suitable for children. We recommend: Short daily distances, a spacious and child-friendly yacht, sufficient time for bathing breaks and landings, as well as "adventure" dinghy trips, snorkeling and perhaps fishing.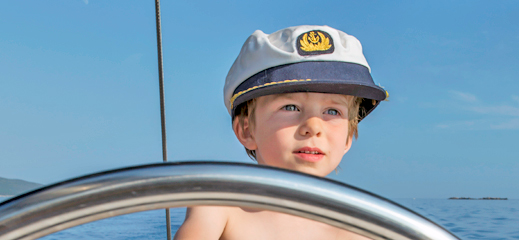 Sailing with Babies
The babies usually sleep comfortably under the deck and often get lulled to sleep from the waves. Neither diesel engines nor sail maneuvers pose a problem, only the sound of the anchoring maneuver can get annoying - sometimes leading to protest. We usually recommend a mosquito net which can be put over the baby-basket at night.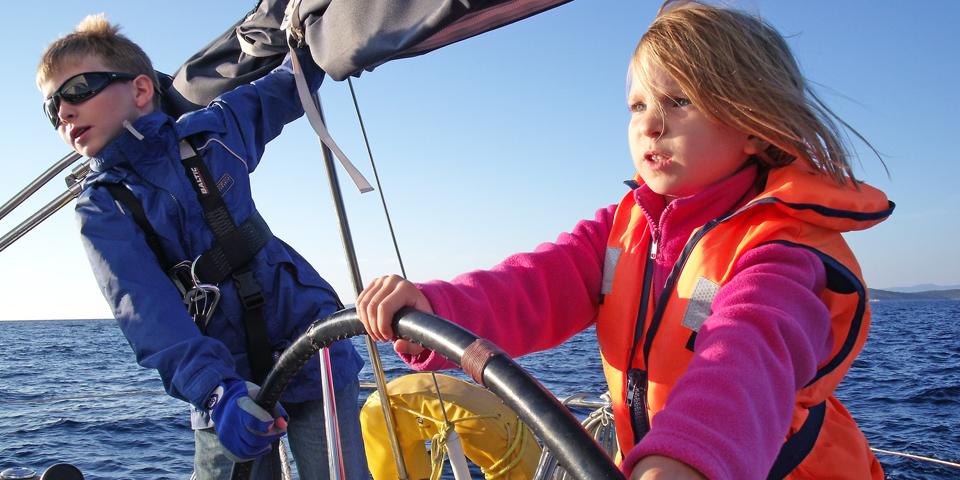 Preparation is the key
Successful charter vacations with children, however, do require some planning and rule enforcement. First of all, set clear safety rules. Discuss the rules of a charter before the trip and reinforce them the moment you get on the boat. Be prepared for all possible situations that could go wrong. As the one being responsible for the little ones, you should always anticipate possible stressful situations and keep in mind to stay calm and handle every situation with confidence. Talk with your kids so they will know what to expect as to what they can and cannot do while on board, safety, what to expect from the trip... Ask yourself some of these questions: Do I know where I have all the life jackets stored? What do I do if a child falls overboard? Have I given precise roles and duties to all my crew members? etc. It is of utmost importance that before embarking on a trip with your kids, you can answer these questions with confidence.
Here listed are some safety rules I have been using while sailing with my (three) kids:
· Always wear life vests and safety harness (in heavy weather) when not in the cockpit
· Never go to the front of the boat without permission
· Never leave a boat without permission from an adult
· The skipper is the boss, his word is law
· No running around, ever
· Never swim alone
· Know which parent is in charge – small kids should always have someone watching

Safety equipment
Everyone on board should have a lifejacket and everyone should be informed and know at all times where the lifejackets are stored. Small children and non-swimmers should wear sailing safety harness. Always check with your agent/fleet operator if they provide life jackets and safety harnesses for small children because many chartered boats do not have them on board or they will not be the right size for your child. We recommend you bring your own lifejackets and sailing harnesses for your child and make sure they wear them at all times during the sailing! Kids should have the same sailing gear as the adults on board. This includes non-slip shoes, sailing gloves, hat, sunglasses, sun protective clothing and plenty of sunscreen.
Food and snacks
Food and drink are important aspects of any yacht charter. Be sure to include plenty of nutritious foods your kids will love because sailing as much fun as it is, it is a journey packed with activity and we all know how fresh air and activity can make one very hungry! Remember to pack saltines for possible occasional motion sickness or tummy-aches, often caused by a small salt intake.
Interested to charter a yacht and go on a sailing holidays with your kids? Please check our offer on https://yachts-booking.com/en/find-yacht and book a yacht online.