There are 89 island and islets in Kornati National Park and they are simply breath-taking. The sheer cliffs on the southwest coasts rise dramatically from the water's edge. Forests of oak and low scrub cover the cresting heights on some of the islands, and vineyards, olive groves, and orchards are present on others, cultivated by seasonal workers who reside in small cottages along the shores. Sailing in the Kornati Islands takes sailors into the remote beauty of the Adriatic.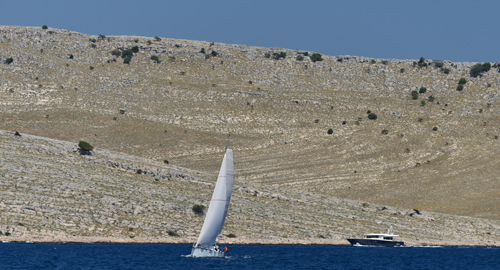 The Kornati National Park is often mentioned as "nautical paradise" in tourist publications. In "slalom" sailing through the islands, islets and reefs in the Kornati National Park, you will test all of your nautical skills, particularly if the weather puts in some effort.
There are two fully equipped marinas in Kornati National Park: ACI Piskera and ACI Zut. If you prefer staying away from the main crowd, there is plenty of well protected bays to drop the anchor, or take a buoy. There is no yacht charter in Kornati, but in the vicinity, 10 – 20 NM away, on Croatian mainland you will find a hundreds of yachts to charter. Main yacht charter marinas are in Zadar, Sukosan (marina Dalmacija), Biograd, Murter and Sibenik.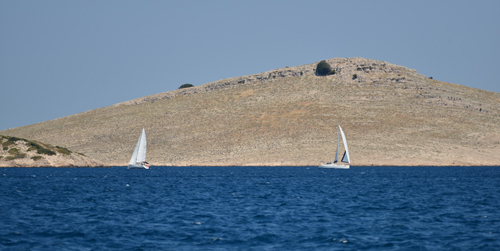 If you prefer to dine out, there are about 20 restaurants and taverns in the Kornati National Park. The selection mostly consists of sea food (fish and lobster) as well as the Kornati lamb. Most of them offer a mooring, or a buoy for your yacht.
If you're planning on visiting the Kornati National Park you will also be expected to pay park fees. Our top tip would be to plan ahead and purchase your park entry tickets before entering the park as it's less expensive, and also to buy in bulk. Please ask your Yacht Charter booking manager for the info where to purchase the ticket. More info and the price list is available online.
Interested? Please check our offer on https://yachts-booking.com/en/find-yacht and book a yacht online. In Kornati Islands and surrounding area we have more than 1400 yachts available.