New Bali Catamarans for Yacht Charter in 2017
The Bali 4.0 was launched at the Cannes 2015 show. The BALI 4.0 is characterized by a single cockpit / saloon area, entirely flush and unencumbered by bulkheads, accessible via an immense folding glass door on electric rams. So in the blink of an eye you can switch from Cosy mode to Lounge model. A forward cockpit with dining area as well as an immense sunbathing area in place of the traditional trampoline. As with its big brothers, the BALI 4.5 Open Space and the BALI 4.3 Loft, the BALI 4.0 enjoys an extraordinary amount of natural light. The large retractable windows bring an unequalled freshness into the saloon as well as a panoramic view. The many hatches in the hulls ensure exceptional natural ventilation. Its technical equipment will satisfy the most exacting sailors, and then for the most exacting cook, forward is the latest generation fitted galley allowing you to cook with a sea view.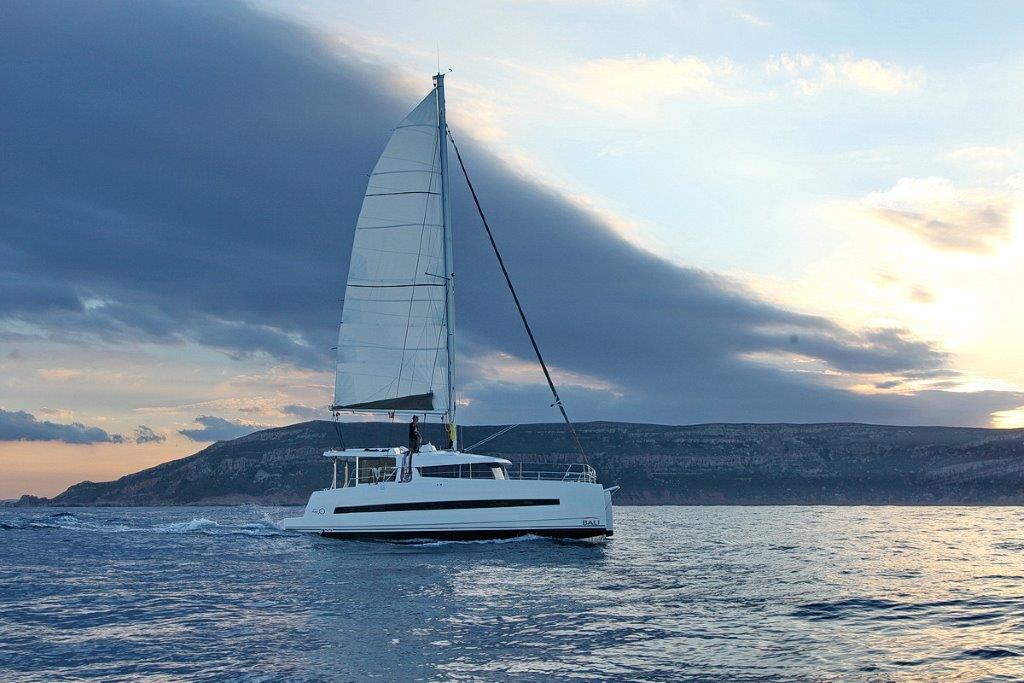 Source : http://www.bali-catamarans.com/
New Fountaine Pajot Catamarans for Yacht Charter in 2017
Lucia 40 (Fountaine Pajot), Saba 50 (Fountaine Pajot), Helia 44 (Fountaine Pajot)
This exciting new 40-foot catamaran has been exclusively designed to deliver a simply superb experience at sea and while moored. Remarkable volumes and light-filled living spaces allow you to comfortably share the experiences and create life-long memories with family and friends.
The Lucia 40 is a true revolution in her class. No other sailing catamaran of her size has fabulous living space of the Lucia 40, which includes a luminous saloon, generous cabins, expansive 12m2 cockpit, and a decadent lounge area on the bow that spans more than 3m2! She is also the only 40-foot sailing catamaran that includes four bathrooms and also boasts the largest Owner's suite available in her class.
Beautifully appointed, the Lucia 40 has all the contemporary conveniences you need for carefree cruising, so you can relax in comfort while experiencing the catamaran's impressive performance at sea.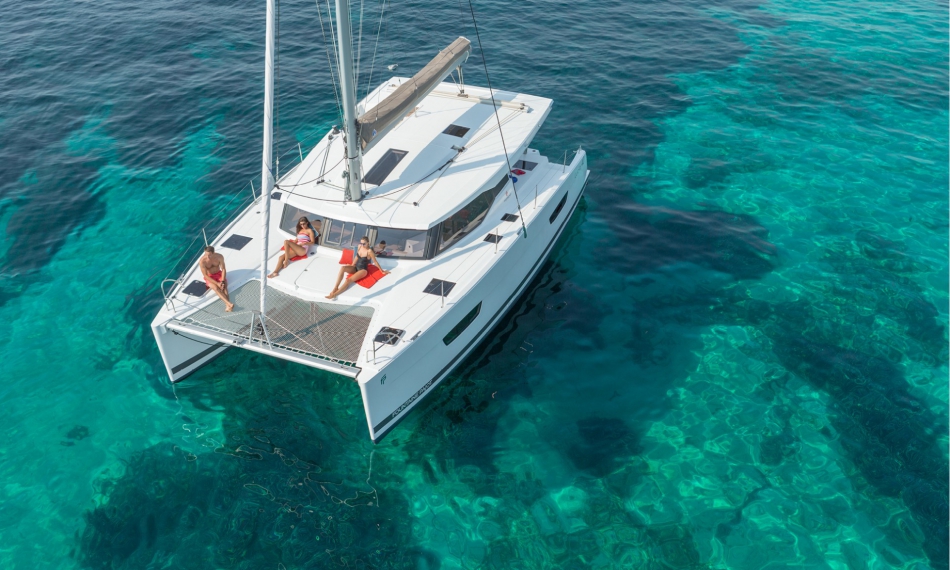 Source: http://www.catamarans-fountaine-pajot.com
The Saba 50 continues to garner critical acclaim throughout the world for its distinctive lines, sophisticated styling, choice of spacious living areas, and outstanding offshore performance. Voted Best Boat, this sailing yacht is the perfect vessel on which to share the joy of exploring the most beautiful destinations with those you love.
With an exterior profile that reflects the elegant and innovative philosophies of her designers, the sailing yacht Saba 50 turns heads wherever she goes. A generous lounge deck delivers a bold high-performance profile, while guests can also choose to unwind in the spacious cockpit or on the magnificent sun lounger at the fore, which provides an indulgent all-weather retreat adjacent to concealed storage lockers. The boat's design provides seamless movement and communication between the cockpit, helmstation and lounge deck, while the incredible space in the saloon evokes the ambience traditionally found only on much larger yachts.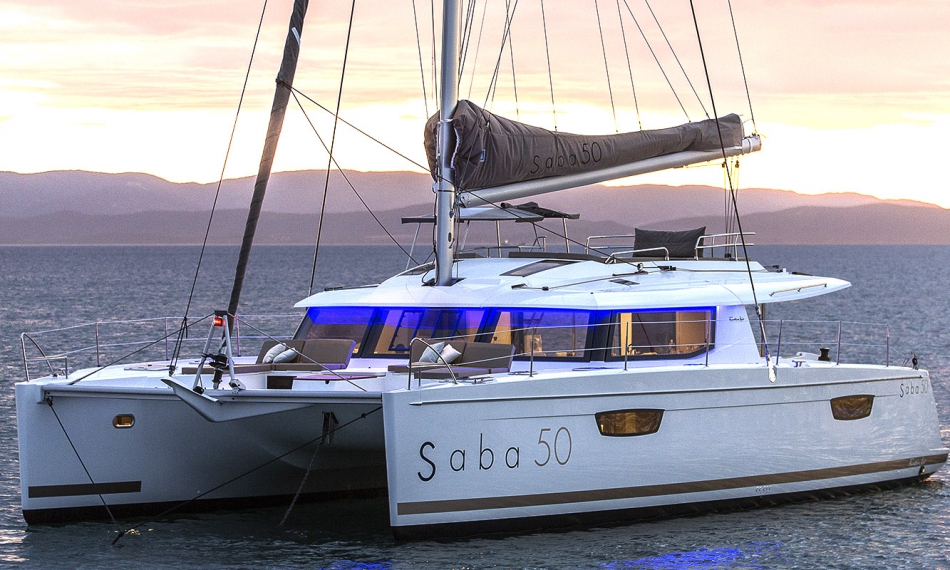 Source: http://www.catamarans-fountaine-pajot.com
New Lagoon Catamarans for Yacht Charter in 2017
Lagoon 380, Lagoon 39 (4 Cab), Lagoon 400, Lagoon 400 S2, Lagoon 42 (3 Cab), Lagoon 42 (4 Cab), Lagoon 450, Lagoon 450 F, Lagoon 450 S (4 Cab)
The VPLP architects, together with Lagoon and the Nauta Design design office, succeeded beautifully in developing a new 45' catamaran to replace the famous Lagoon 440 (more than 400 units sold!) Of course, the irreplaceable qualities of the Lagoon 440 have been retained as a starting point: a steering station on the fly bridge accessible from both sides of the cockpit, a forward cockpit, performance under sail … and an incomparable comfort in the saloon and the cabins. Larger and with a bigger sail area, the Lagoon 450 is offered in 3 or 4 cabin versions, and also benefits from important improvements in terms of safety, performance and cruising comfort.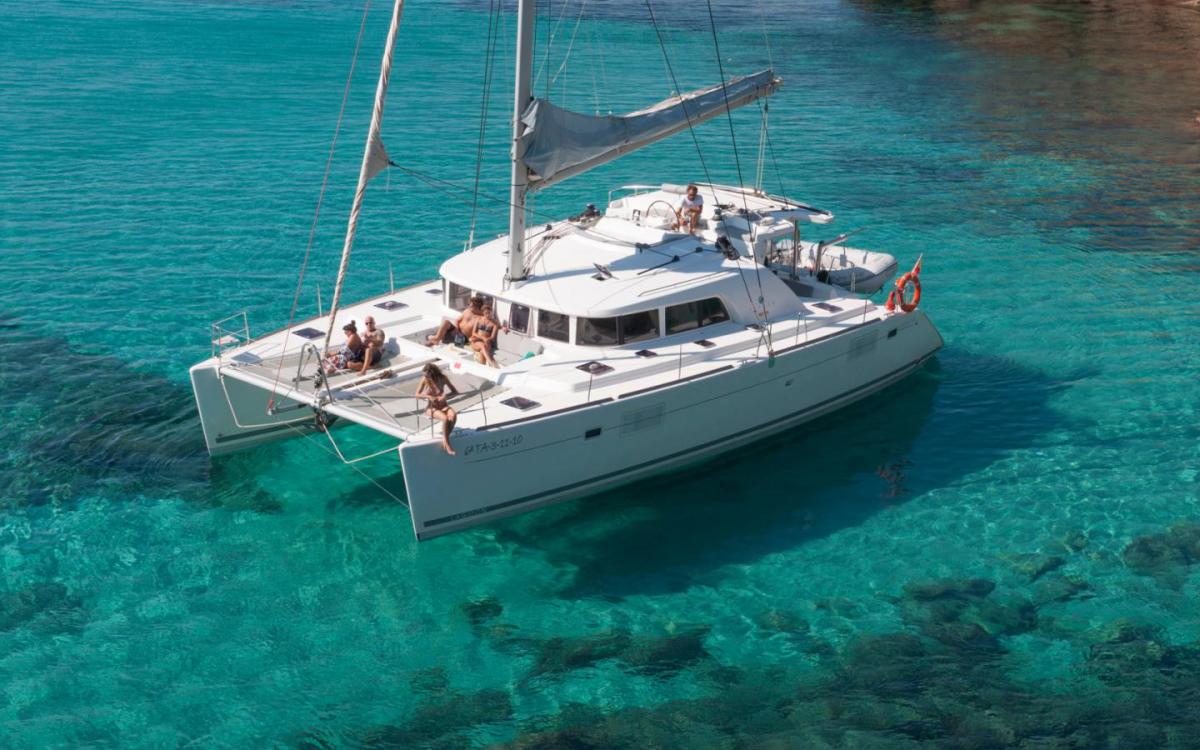 Source : http://www.cata-lagoon.com
New Bavaria Catamaran for Yacht Charter in 2017
The NAUTITECH 46 FLY has been designed for people who love traveling on the sea. It doesn't matter whether this is only for a few days or for an extended journey. The joy of lying at anchor in secluded coves, or sailing at speed from port to port – with the NAUTITECH 46 FLY you can experience all this without sacrificing comfort or luxury.
The NAUTITECH 46 FLY from BAVARIA CATAMARANS is manufactured in Rochefort on the Atlantic Ocean. She is the embodiment of over thirty years of experience in the construction of cruising catamarans by the French and just as much expertise in interior design and working with wood by BAVARIA YACHTS from Germany. The NAUTITECH 46 FLY was drafted by Marc Lombard, one of the most successful yacht designers in France. Yachts designed by Marc Lombard guarantee perfect sailing performance and seagoing hulls. The elegant and functional design below deck comes from the pen of Stéphane Roséo and his team at Studio Roséo Design.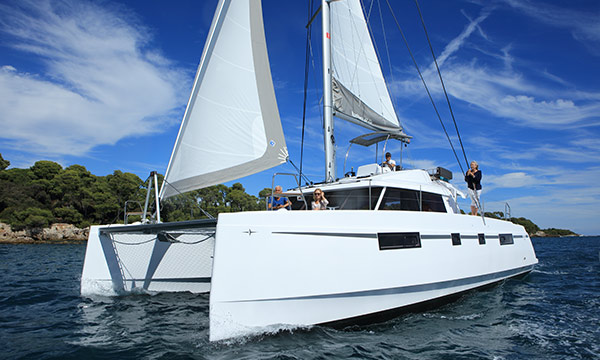 Source: https://www.bavaria-yachtbau.com
Interested? Please check our offer on https://yachts-booking.com/en/find-yacht and book a yacht online.